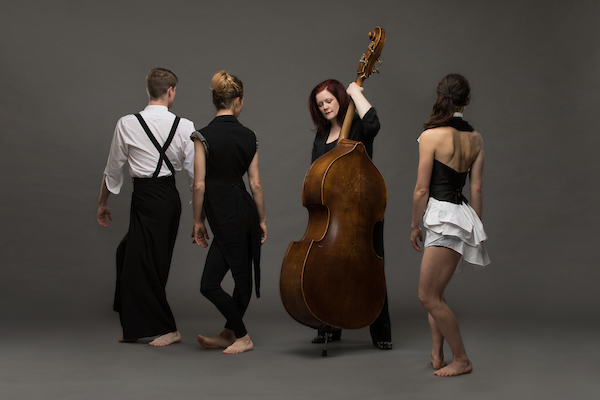 Photo: Margot Moritz
TOUCH BASS with Risa Jaroslow and Dancers
In fall of 2015, I was fortunate to play in the Paul Dresher Ensemble for a dance performance by Risa Jaroslow and Dancers, at ODC Theater. The musicians had been rehearsing intensely for about a week before the dancers showed up to work with us. I was setting up my amp and bass and music at the beginning of one rehearsal and suddenly a woman was coming towards me pointing, saying "YOU'RE THE BASSIST!"...since this was her project and she had a million things to think of, I didn't expect Risa, the choreographer, to even notice the band, let alone the bassist.
I found out her mother was a double bassist (and two of her uncles!) in New York City in the 1940s, and that she had a very special affinity for my instrument. We stayed in touch after her shows, and soon enough, found ourselves in the studio with the extraordinary dancers Scott Marlowe and Lauren Simpson. After more than a year of experiments and getting to know each other, we will premiere a new collaborative work, TOUCH BASS, at ODC Theater the last weekend of April, 2017.
A third amazing dancer, Tara MacArthur, has joined us, and so have two more bassists - Matt Small and Eric Perney. Yes, this is a piece for three dancers, three bassists and three basses. It's a dream to work with all these smart, creative, open-minded artists, in a truly organic and collaborative process. I can't wait to see what we come up with next.
Here's an interviww Risa and I did on KALW in advance of the premiere:
Some Previews and Reviews of the Premiere:
Heather DesaulniersInterview in In Dance
Andy Gilbert Preview in the San Jose Mercury News
Heather Desaulniers Blog Review
Leslie Katz Review in the SF Examiner
Joanna Harris Review on Culturevulture
Some highlights from the premiere performances:

Golia-Eneidi-Mezzacappa-Anderson
Audio player
Hell-Bent in the Pacific brings together Vinny Golia and Marco Eneidi, two of the fiercest horn players around, for their first meeting on record. Both are beloved figures and truly unique voices in West Coast improvised music, despite Marco's relocation to Vienna several years ago. Vijay Anderson and I put this session together and spent the better part of two days trying to keep up with these two!
Vinny Golia - tenor, sopranino and soprano saxophones; Bb and bass clarinet
Marco Eneidi - alto saxophone
Lisa Mezzacappa - acoustic bass
Vijay Anderson - drums
We released a CD on NoBusiness Records in fall 2012: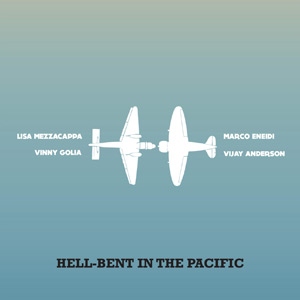 Track Listing:

1. Meteorites
2. Inessential melancholies
3. Everything imaginable can be dreamed
4. Deformities and discords
5. Pendulum
6. Fumbling fulminations
7. Prisoner of a gaudy and unlivable present
8. Lop-sided heels and frayed shoes
9. Catholic comstocking smut-hound
CD Reviews:
All About Jazz
All About Jazz Italia
Cult MTL
FreeJazz Blog

Nostalgia for the Future
Deborah Aschheim,
a Los Angeles-area based installation artist and sculptor with whom I've been working since 2006, invited me to collaborate with her on her latest endeavor, a series of installations called "Nostalgia for the Future." The first installation was at the Armory Center for the Arts in Pasadena, CA this past fall and winter. The music features a combination of processed live recordings of my group Nightshade, and samples of analog sounds from everyday appliances and gadgets. An online exhibition of some of Deborah's Nostalgia drawings and ruminations, with some of my sound clips from the installation, is viewable on the
Viralnet
site at CalArts.
Also, this is my favorite piece from the Armory show, and somehow one of the most heartbreaking videos I've seen. It is found footage filmed by the astronauts from one of the Apollo missions, shot from inside the capsule as they returned to earth. In the installation, this video was projected in an enclosed stairway with speakers embedded in the walls...
Permanent Wave Ensemble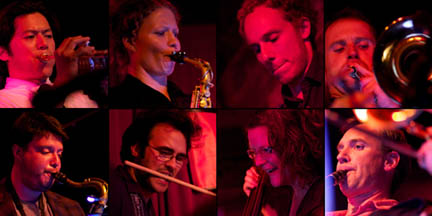 The Permanant Wave Ensemble
is an octet cover band I co-lead with extraordinary saxophonist and composer
Kasey Knudsen
. What began as a conversation over a beer about how much we love Carla Bley's idiosyncratic music and transgressive spirit, and how it's a shame people only usually arrange the music of dead dudes, became a new band in a matter of a few months. We made our debut in March of 2010, performing some radical and modest re-interpretations of some of our favorite Bley tunes... and now we're moving toward adding some music of our own, and pieces by other less-conventional jazz renegades...
The band is dreamy:
Kasey Knudsen, alto saxophone
Matt Nelson or Sheldon Brown, tenor saxophone
Cory Wright, clarinets
Henry Hung, trumpet
Rob Ewing, trombone
Michael Coleman, piano
LM, acoustic bass
Sam Ospovat, drums
Permanent Wave video (and interview with me and Kasey) produced by SFJAZZ as part of its "Hotplate" series:
Cylinder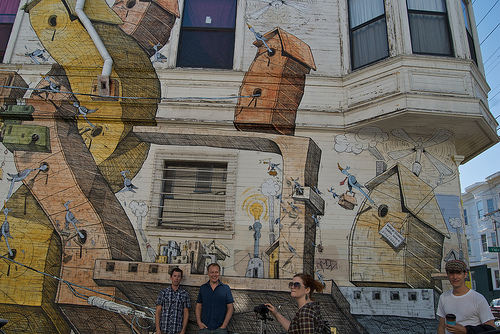 Audio player
A complete group with a swirl of theories and concepts that makes it one of the best future-forward bands on the scene right now. - JazzWrap
They improvise like they're inside one another's heads and play sensitively written tunes pitched at one another's strengths...
- Bill Meyer, Chicago Reader
Cylinder is an all-star collective quartet of Bay Area improviser-composers who have traveled and performed widely. The sum experience and musical wisdom of this group is inspiring and stimulating, and most of all I really like that almost anything is possible between the four of us - we get into really abstract sonic spaces, but also groove very hard and very freely in a way that I can only describe as extremely satisfying. Everyone writes for the group also, which keeps things surprising.
Aram Shelton / alto saxophone, clarinet
Darren Johnston / trumpet
Lisa Mezzacappa / acoustic bass
Kjell Nordeson / drums
Our debut CD was released on the Clean Feed label in March 2011: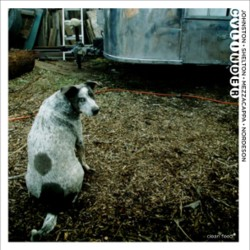 Track Listing:
1. The Ear the Was Sold to a Fish (Johnston)
2. Sung by Dogs (Nordeson)
3. The Deep Disciplines (Mezzacappa)
4. Crossings (Shelton)
5. Shells (Nordeson)
6. Four Thoughts (Shelton)
7. Skipped Rocks (Shelton)
8. Sink Town (Johnston)
9. Earthworm (Mezzacappa)
CD Reviews:
Jazzwrap
FreeJazz Blog
New York City Jazz Record (Concert Review)
New York City Jazz Record (CD Review)

Cylinder video produced by Porto Franco Records, summer 2011:
duo B.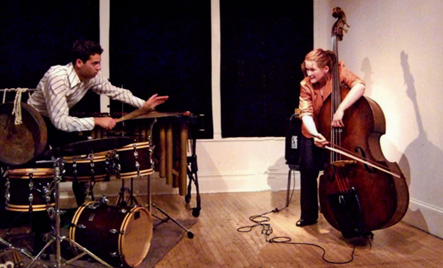 Audio player
duo B. is an ensemble of acoustic bass + percussion that plays ethereal chamber music wrapped in dense improvised soundscapes. Jason uses gongs, Tibetan singing bowls, bowed cymbals, marimba and drumset to create lush, delicate textures and abstract noise grooves; I draw on a palette of sinister drones, punchy vamps and acoustic bass manipulations to weave storylines through gnarly rhythms, pointillistic shapes and ecstatic melodies. I have been making music with drummer/composer Jason Levis for more than ten years now, and Jason's relocation to Berlin a few years ago has slowed, but not stopped, our collaboration.
Our second recording, start this before dawn touches the skyscrapers, is now available in vinyl and digital download. The record, which we have been cooking up for some years, features our performances of graphic scores by local composers Jon Raskin, Aaron Bennett, Heather Frasch, Phillip Greenlief, me, and also includes our score to a film by Mark Wilson: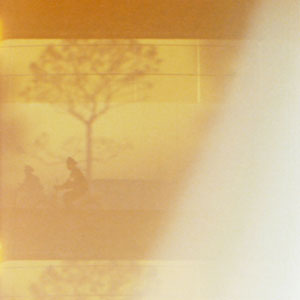 Our 2006 CD these things seem natural to us, is available for purchase at CDBaby.
Earworms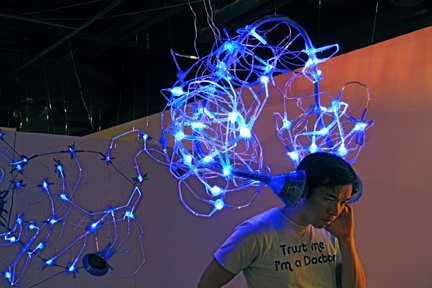 Audio player
Earworms, a collaboration with artist Deborah Aschheim, and vocalist/songwriters Katy Stephan and Michelle Amador, is an exploration of language and memory through sound and space. Named after the German word Ohrwurm, a fragment of song that becomes stuck in a person's head and repeats endlessly, the project began as an experiment to cure aphasia by embedding words in memorable songs. Inspired by stories of stroke patients who had regained the ability to speak by remembering words buried in song lyrics from their past, Deborah and I have created a series of installations based on a list of her favorite words. Along with Katy, Michelle, and a dozen or so Bay Area musicians, I composed and recorded a song for each word; Deborah built a sculpture for each song, and we collaborate on site-specific installations that re-imagine the sound and sculptural elements for each space they inhabit. Each sculptural instrument performs a unique musical composition, based on a single word, to create a layered sonic and visual experience in the gallery space. Earworms has been shown at the Pasadena Museum of California Art, Pasadena CA (2008); Laumeier Sculpture Park, St. Louis, MO (2008); and the Sheppard Fine Arts Gallery, University of Nevada, Reno (2007).
A CD of all of the Earworms music was released in fall 2008, available online at CDBaby.

Gold Record Studio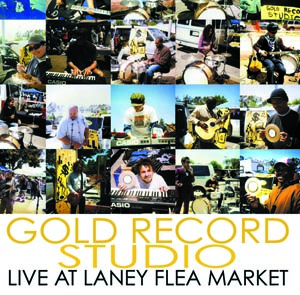 For six weeks in spring 2007,
Jon Brumit
and I hosted a free recording studio and improvisation lab out of the back of a van, in the Laney College Flea Market in Oakland. It was a wild, exhausting, exhilarating ride - we recorded anyone and everyone who came to participate, released a 2-CD set of the results on the Edgetone Records label, and mounted an exhibition of paraphernalia, photos and video at 21 Grand in Oakland. At the exhibition opening, recording artists from the flea market returned to perform in the gallery to celebrate the CD's release. The project was funded by the City of Oakland Cultural Funding Program.
Learn more, read reviews, listen, and purchase the CD on the Edgetone Site: www.edgetonerecords.com