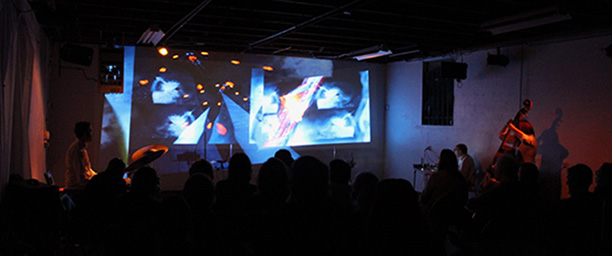 duo B. vs. viDEO sAVant
duo B. vs. vIDEO sAVant
is an intermedia ensemble of drums (Jason Levis), bass (Lisa Mezzacappa) and live video (Charles Woodman), based in the San Francisco Bay Area. The trio creates live performances of sound and image that seek the revelatory moments where the distinction between music and video, sound and image melt away and a new whole emerges from the flow between individuals and media. The group formed when Mezzacappa and Woodman met and began collaborating as Artists in Residence at Headlands Center for the Arts in 2015. Since then, they have performed together in the San Francisco Bay Area and beyond, and have been presented by SF Cinemateque, the École Nationale Supérieure des Arts Décoratifs in Paris, Shapeshifters Cinema in Oakland, and the Oakland Winter Live Festival. duo B. vs. viDEO sAVant was Ensemble-in-Residence at the Center for New Music, San Francisco for 2018-19, where it spent the year developing a new evening-length work that premiered in fall 2019.
Atomic, filmed at Counterpulse SF

Live at Shapeshifters Cinema, Oakland CA:

Live at the Center for New Music, San Francisco CA with special guest, John Finkbeiner, guitar:

BIOS
duo B., the San Francisco Bay Area improvising and composing ensemble of percussionist Jason Levis and bassist Lisa Mezzacappa, is a musical think tank of grand schemes and impossible scenarios. For more than a dozen years, the ensemble has developed and refined its singular approach to improvisation and composition, through cross-disciplinary projects with film, collaborations with improvising instrumentalists at home and abroad, study of repertoire by like-minded composer-improvisers, and immersion in the improvised-composed musical worlds of masters Wadada Leo Smith, Anthony Braxton, Cecil Taylor, Henry Threadgill, and others. The group has released three recordings, including these things seem natural to us (Evander Records, 2006) and start this before dawn touches the skyscrapers (Edgetone Records 2013). Most recently, duo B. embarked on a journey in long-form improvisation with its latest project and release, No Ins & Outs (Queen Bee Recrods, 2017), an exploration of the musical vision of pianist Cecil Taylor, re-imagined as a 45-minute work for bass and drums. They performed a continuous 4-hour version of Wadada Leo Smith's expansive graphic score, Luminous Axis (2002) at the 2018 edition of the annual Chapel of the Chimes solstice event in Oakland, CA, and currently ringlead the 13-member duo B. Experimental Band, performing bi-monthly at Temescal Arts Center in Oakland, CA.
Charles Woodman, aka viDEO sAVant, is an electronic artist working in video and expanded media. His recent projects have concentrated on the creation of multi-image video installations for museums and galleries, and the integration of video with live performance, often in collaboration with musicians or dancers. Exhibitions of his work include screenings at the Museum of Modern Art in New York; Block Museum of Art, Chicago; Black Maria Film and Video Festival, Edison, NJ; and the American Dance Festival, Raleigh, NC. Woodman is a founding member of the video performance group, viDEO sAVant and is a pioneer in the development of the performance genre of live cinema—real time video editing as live performance. Appearances by the group include performances at ISEA, Dubai, United Arab Emirates; Spazio Contemporanea, Brescia, Italy; Albright-Knox Art Gallery, Buffalo, NY; and the Tulsa New Genres Festival, Tulsa, OK.