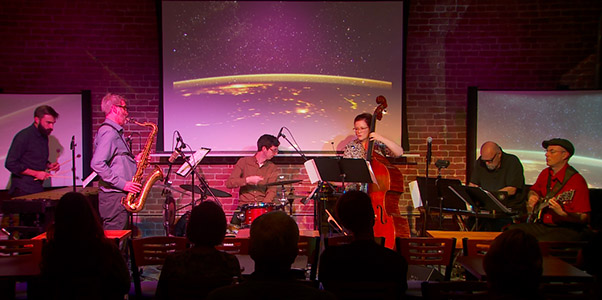 Lisa Mezzacappa Six :: The CosmiComics
My latest suite of music for jazz sextet is inspired by Italo Calvino's nerdy, hilarious, lewd, poignant collection of short stories, the
Cosmicomics
. I've written nine or so pieces inspired by Calvino's stories that humanize and personify far-out and beautiful phenomena that defy human perception—the expansion of the universe, the origins of the planet, the mysterious relationsihp of the earth to its moon, the evolution of humans and creatures. We developed this music over the course of 2018, in a series of work-in-progress salons at the spectacular Glen Park mainstay, Bird & Beckett Books & Records.
The band is, as ever, spectacular:
Aaron Bennett, tenor sax
John Finkbeiner, guitar
Mark Clifford, vibes
Tim Perkis, electronics
Lisa Mezzacappa, bass
Jordan Glenn, drums
Here is a live video of a piece based on Solar Storms, a love story about a solar flare who comes to earth to be with her beloved—only to be driven away by an angry mob of villagers, who turn on her because her powerful electromagnetic presence disrupts their TV and radio reception.
Here is a link to a very thoughtfully written review in Artforum Magazine, about this project and my recent work.
And here is a blog post I wrote for the SFJAZZ website about working on this music.
Blood, Sea describes our transformation from being creatures who swam in a vast sea, to humans with the salty sea enclosed inside of us as blood:
This music premiered at Bird & Beckett Books and the CA Jazz Conservatory, and has gone on to be performed at SFJAZZ Center and Edgfest in Ann Arbor, MI. A recording is forthcoming in 2020!