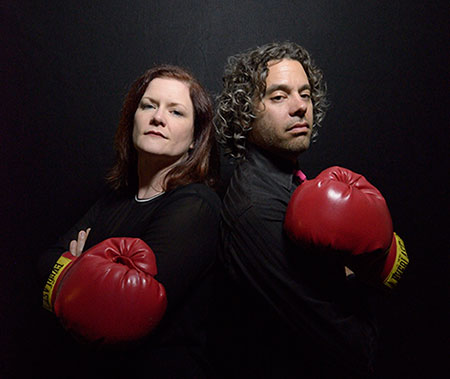 Photo: Myles Boisen
duo B., the San Francisco Bay Area improvising and composing ensemble of percussionist Jason Levis and bassist Lisa Mezzacappa, is a musical think tank of grand schemes and impossible scenarios. For more than ten years, the ensemble has developed and refined its singular approach to improvisation and composition, through cross-disciplinary projects with film, collaborations with improvising instrumentalists at home and abroad, study of repertoire by like-minded composer-improvisers, and immersion in the improvised-composed musical worlds of masters Wadada Leo Smith, Anthony Braxton, Cecil Taylor, Henry Threadgill, and others.
duo B.'s music is ethereal chamber music wrapped in dense improvised soundscapes. Levis uses gongs, Tibetan singing bowls, bowed cymbals, marimba and drumset to create lush, delicate textures and abstract noise grooves. Mezzacappa draws on a palette of sinister drones, punchy vamps and acoustic bass manipulations to weave storylines through gnarly rhythms, pointillistic shapes and ecstatic melodies. duo B.'s influences range from free jazz to indie pop to contemporary chamber music, from Threadgill to Zorn, Wilco to the Boredoms, Messaien to Grisey and back again.
In fall 2006, the group released its first full-length CD, these things seem natural to us (Evander Records). An LP followed in 2013, start this before dawn touches the skyscrapers (Edgetone Records), featuring recordings of graphic scores by West Coast composers, including Jon Raskin, Phillip Greenlief, Wadada Leo Smith, John Schott, Aaron Bennett, Heather Frasch and others. Most recently, duo B. has embarked on a new journey in long-form improvisation with its latest project, an exploration of the musical vision of pianist Cecil Taylor, re-imagined for bass and drums in the 2017 recording, No Ins & Outs.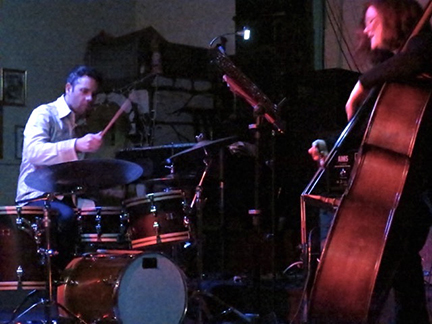 duo B. was formed in January 2005 as an offshoot of the acclaimed Bay Area chamber jazz quartet Married Couple. Married Couple had developed a unique method of composing, arranging and processing material for group improvisation. All four musicians read from full scores, and learned all parts. In the group's rigorous rehearsals, the musicians processed, de- and re-constructed, and internalized the pre-composed material – which ranged from Bjork to Shostakovich to Don Cherry – experimenting with wildly different forms, rhythmic feels, song structures, role reversals, collective improvisation and finely notated pre-composed sections. Married Couple's performances were unscripted and unpredictable, an electric combination of risk and energy tempered by meticulous rehearsal, eclectic compositions and a remarkable sense of group cohesion.
duo B. has continued this process, with the added challenge of musically addressing the sparse, abstract instrumentation of bass-and-drums. The music is sometimes completely composed, sometimes completely improvised, and most often an interesting mix of the two. In addition to performing traditionally-notated original music and arrangements of music by jazz and pop composers such as Henry Threadgill, Anthony Braxton and Wilco, the ensemble has also worked with graphic scores, improvisation games, text, tape music, video and visual art to create a new hybrid of multidisciplinary chamber music, infused with rigorous and risk-taking improvisation. In 2006 duo B. was awarded a Meet the Composer grant to compose a new improvising gamepiece for duo and audience, and in fall 2006 the group initiated a Commissioning Program to generate new multidisciplinary improvisation works for the ensemble by local composers. In December 2007, duo B. premiered an original score for the short film Postmark Tokyo by San Francisco filmmaker Mark Wilson.
duo B. has performed widely throughout the San Francisco Bay Area, at Maybeck Studio, Epic Arts Center, and the Berkeley Arts Festival, Berkeley, CA; 21 Grand Performance Space and Studio Grand, Oakland, CA; Meridian Gallery Composers-in-Performance Series, the Luggage Store New Music Series, the SIMM Experimental Music Series, and the Center for New Music, San Francisco, CA; Headlands Center for the Arts, Marin CA; as well as performance venues in Berlin, Germany, where Levis was based from 2008-2015. The ensemble has also led improvisation workshops for students at the University of California, Berkeley and the University of Nevada, Reno.