Air Above Mountains (Buildings Within): celebrating, studying, standing in awe of the mastery of Cecil Taylor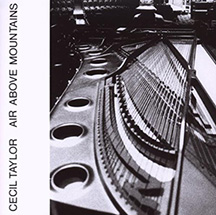 In fall of 2015, the duo embarked on a journey inspired by Jason's phD thesis research into free jazz compositional approaches...since then, we have been transcribing, notating, playing along with, de- and re-constructing, arranging, and in all kinds of ways trying to inhabit the musical mind of master improviser, pianist Cecil Taylor. We have been performing (attempting to perform?) a drums and bass duo version of his 1976 live solo performance Air Above Mountains (Buildings Within), and it has been a great gift to be able to get so close to this music, this artist's process, his extraordinary focus and singular vision. It often feels like the deeper we go, the possibility of capturing this music moves farther and farther away from us; the more time we spend in Mr Taylor's sounds and structures, the more he fills us with mystery and wonder, eluding clear paths to fully grasping him.
Live Music + Video with new media artist Jeremy Hunt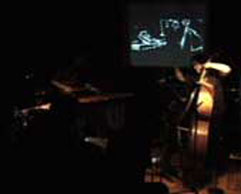 Bubble is a meditation on restraint, the heavy expectation in silence, and the dramatic weight of physical gesture. For this performance, composer/new media wizard Jeremy Hunt filmed the duo as we performed, and projected a stylized, dramatically slowed-down composite image of our movements onto a screen overhead. This aspect of Jeremy's work explores the idea of the video camera as microphone, amplifying and calling attention to the physicality of sound and live performance.
Watch:
Bubble for marimba and contrabass, with live video (2007)
Live at Maybeck Studio, Berkeley CA
July 2007
Postmark Tokyo, collaboration with filmmaker Mark Wilson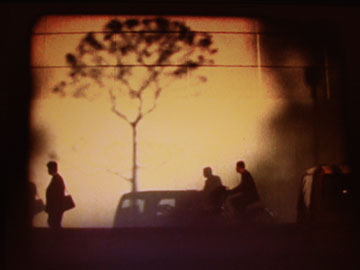 In fall 2007 the duo began collaborating with San Francisco filmmaker Mark Wilson on a score for his experimental short film Postmark Tokyo. The film is stunning, evocative, playful, and expresses with great nuance and sensitivity the experience of a lone visitor taking in the intoxicating rhythms and visual textures of a foreign city. The film score was released on the LP start this before dawn touches the skyscrapers.
duo B. Commissioning Project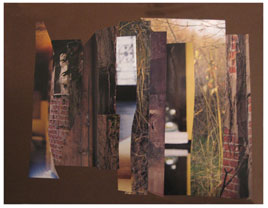 In 2006, the duo began "commissioning" compositions and improvisation vehicles from some of the Bay Area composers we most admire (we say "commission" because the "commissioning fee" has often been in the form of a burrito). So far duo B. has had the great pleasure to work with composers Heather Frasch, Darren Johnston, Aaron Bennett, Phillip Greenlief and Jeremy Hunt on a series of graphic pieces and multi-disciplinary works incorporating text, image and video.
Doublesided, a game piece for audience and improvisers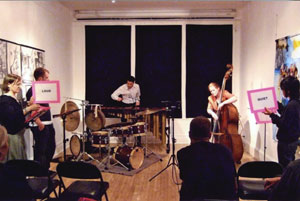 In September 2006, with support from Meet the Composer, duo B. premiered a new composition at the Meridian Gallery Composers-in-Performance series, inviting the audience to participate in the creation of new improvised music through an interactive game piece. Doublesided requires two audience conductors to interact with the musicians to structure a series of improvised pieces, using cue cards that contain information about texture, dynamics, form and tone.