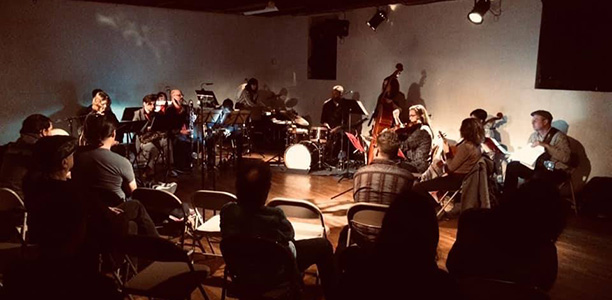 duo B. Experimental Band
The
duo B. Experimental Band (dBxB)
, launched in December 2018, is a new ensemble that translates and transfers the musical mindset of duo B. onto eleven other unsuspecting improvising musicians. Led by Jason Levis and Lisa Mezzacappa, the 13-member band focuses on the intersection of composition and improvisation in a large(r) group format. The goal of the ensemble, longterm, is to develop, rehearse and refine a shared sense of musical possibility when performing both pre-composed and spontaneously composed material. So far the group has performed new works by Mezzacappa and Levis, and future plans include music by invited guest composers and guest conductors, experiments in durational performance and installation environments, and collaborations with dance and video. The dBxB performs every other first Saturday of the month at Temescal Arts Center in Oakland as part of the
DO-OVER Music Series
.
So far the band has included this illustrious cast of Bay Area improvisers:
Kyle Bruckmann, oboes
Polly Moller Springhorn, flutes
Matt Ingalls, clarinets
Josh Marshall, tenor saxophone
Randy McKean, alto saxophone
Theo Padouvas, trumpet
Josh Reed, trumpet
Brendan Lai-Tong, trombone
Ron Ewing, trombone
Gabby Fluke-Mogul, violin Murray Campbell, violin and oboe
Julie Michael, viola
Crystal Pascucci, cello
Nava Dunkelman, percussion
Kjell Nordeson, percussion
John Finkbeiner, guitar
Lee Hodel, bass
Lisa Mezzacappa, bass
Jason Levis, drums
21' Live at Temescal Arts Center, Oakland CA:

dBxB#1 Live at Temescal Arts Center, Oakland CA:

The duo B. Experimental Band alternates months with the JORDAN GLENN PARTY as part of the monthly DO-OVER Music Series. Every first Saturday (pretty much), starting in 2019, East Bay musicians Jordan Glenn and Lisa Mezzacappa host a performance series featuring exploratory music for large(r) ensembles, alternating each month between two featured groups. Each night also features solo and/or duo sets by local and visiting artists, focusing on works-in-progress, new collaborations, and first forays into intermedia, installation and durational works. DO-OVER is a place for experimentation, impracticality, and glorious failure—not necessarily a series for pre-existing bands or established projects—that encourages members of the Bay Area music community to embrace discomfort and explore new practices in a supportive environment, holding on to the artistic values that have always made this scene so special.